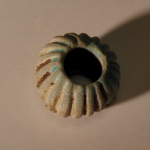 A piece of glass with a hole to lace. It is used as an ornamental item today. Lampwork beads are seen all over the world and have very long history. In Egypt, production is supposed to be started just after the innovation of glass around 4000 B.C. In some areas or times, they were used as charm or substitute for money.
As for ancient Japan, some examples supposed to be the exports of Egypt were found from the ruins going back to some centuries B.C. The production of lampwork beads in Japan has already started in Nara Era (710 – 794). They are supposed to be mainly for the decoration for Buddhist art. In Edo Era (1603 – 1868), glass beads affordable for common people were produced under the influence of Chinese and European beads. They became popular for decorative use for daily goods.
Typical method to make lampwork bead is to melt glass rod with the heat of burner, roll up melted glass to a stick with parting compound for several rounds. Within the process the pattern inside and shape of the bead is formed. In Meiji Era (1868-1912), the production ceased but it was revived in the last half of the 20th century. Today a lot of artists and artisans are engaged in the production and lampwork beads with elaborate designs are created.
紐などを通す穴の開いたガラス玉(ビーズ)のことで現在では装飾品または観賞用として使用されている。とんぼ玉は世界各地で見られ、非常に長い歴史を有する。エジプトでは紀元前4000年と言われるガラスの発明から間もなく、とんぼ玉が作られ始めたとされる。地域や時代によっては、護符や貨幣として使われたこともあった。
日本の古代のものとしては、エジプトからの渡来品と考えられるものが、吉野ケ里遺跡から出土している。国内生産はすでに奈良時代(710年‐794年)には行われていたと考えられる。このころの用途は主に仏教美術と結びついた装飾用だった。江戸時代(1603年‐1868年)に中国とヨーロッパの技術が伝えられ、長崎などで安価な製品が作られるようになると、庶民の手にわたる根付やかんざしなどの身近な装飾品に使用された。
代表的な製法は、離型剤を塗布した芯棒に、熱で溶かしたガラスを幾重にも巻きつけながら模様をつけ、成形をする。明治時代にその製法は途絶えるが、20世紀半ば以降復元された。現在は多数の作家が制作にあたり、凝った意匠の作品が生み出されている。